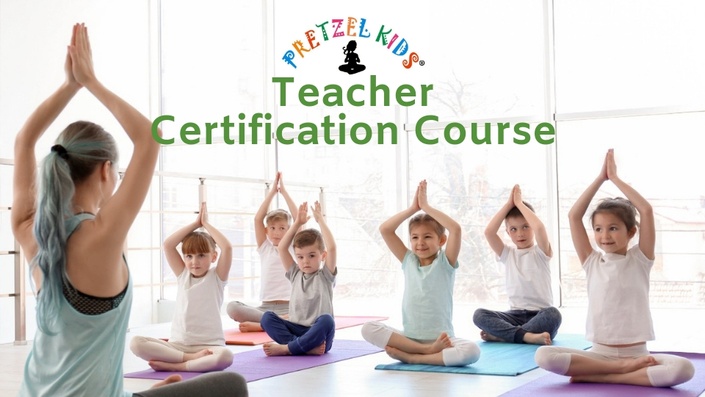 Pretzel Kids® Yoga Teacher Certification Course
Become a Children's Yoga Teacher in 8 Easy Steps! Start Training TODAY. Start Teaching TOMORROW.
Watch Promo
Enroll in Course
Welcome to Pretzel Kids, the GOLD standard in
children's yoga teacher trainings!
What is Pretzel Kids yoga teacher training?
The fastest way to teach kids yoga

The easiest way to teach kids yoga
A formula to earn more money
This fast-track certification course is for you if you're ready to:
Access an easy peasy way to immediately start teaching kids yoga

Make more money teaching kids yoga classes

Launch & grow a kids yoga business using our plug-n-play roadmap

Pocket the thousands of dollars you'd spend on a 200-hr yoga teaching training course (which, by the way, will NOT teach you how to teach kids yoga!)




Gain a rewarding new career - FAST
You've Come to the Right Place

Pretzel Kids is the FASTEST and EASIEST way to start teaching kids yoga, using our 8-step fast-track teaching methodology. Period.
Better yet, you get access to this course FOREVER! As an added bonus, you'll also get 3 of our best-selling mini-courses for FREE (valued at $237). Yup, you get the Pretzel Kids Yoga Teacher Certification course, Teaching Tween/Teen Yoga, Yoga for Kids with Special Needs, and Teaching Tips!
The value of those 3 courses ($237) + the price of the Pretzel Kids Yoga Certification Course ($498) = $735 but you're only paying $498 instead of $735 - for the whole kit & kaboodle!

And, where else can you learn a new career skill for less than $500 - a skill you can turn into a profit of $6,000-$80,000 a year, depending on how much you want to teach? Um, nowhere...We're not kidding about this. We've done the math.
You can learn more about the Pretzel Kids earnings potential in our e-book here.
Why is Pretzel Kids so special? Let us count the ways

Think of this like a children's yoga business-in-a-box. Open it up, unpack the contents, and you are ready to rock and roll!
This plug-and-play training gives you all the step-by-step, easy-to-follow ingredients to teach well-structured and managed classes. We do this using our "8 Rules for Success" proven methodology. This is key to creating successful yoga classes for children time after time. When we say methodology, we mean it. This isn't just a bunch of fun yoga games and poses. Pretzel Kids is a proven teaching curriculum that's been implemented at schools, camps, after-school programs, daycare centers, gyms, teenage sports programs, yoga & fitness studios and more for 15 years! (but of course, if you only want to grab a game and go, or teach a breathing technique - we've got you covered there too).
The Pretzel Kids Yoga Teacher Certification Course is unlike any other children's yoga training on the market today! Our goal is to teach you all the fun stuff - games, poses etc. - while giving you tools to create structured classes that work.
If you've been delaying teaching children's yoga classes because you are not sure you can effectively structure a class, you can now breathe a sigh of relief. You're about to transform your skillset and become an in-demand kids yoga teacher.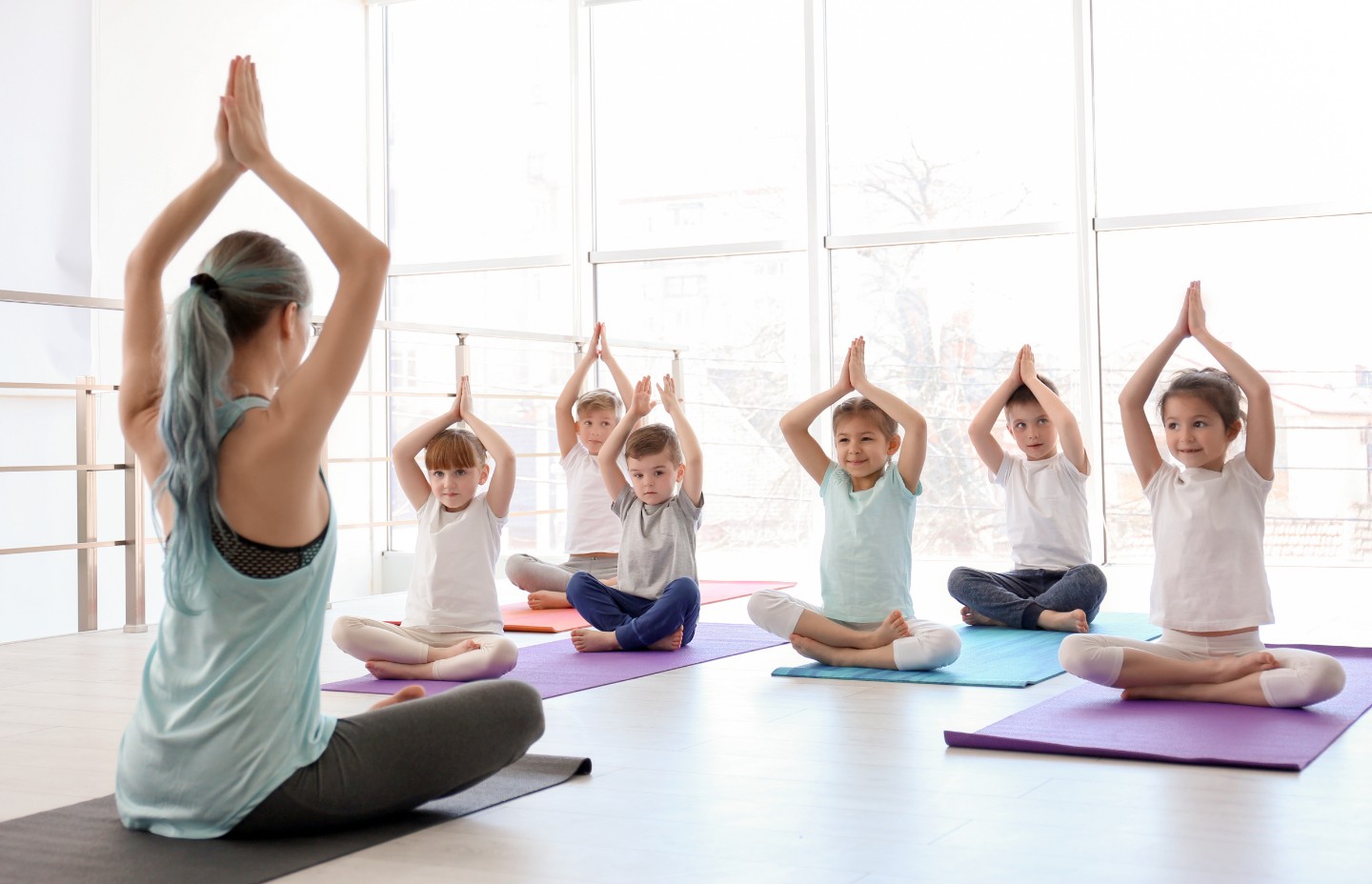 Why is Pretzel Kids so effective?
Pretzel Kids is much more than a certification course. It's a full-blown original curriculum written by educators, who are also yoga instructors. We know what works in a classroom setting as we've been there. This training gives you the key to unlock this treasure trove as well as create classes using our proprietary curriculum.
Pretzel Kids has trained yoga teachers, preschool teachers, occupational and physical therapists, dance teachers, psychologists, fitness trainers, moms, dads, nannies and more. Now, it's your turn to become a Pretzel Kids teacher (and psst: You do NOT have to be an adult yoga teacher to take this course).
Are you ready to join the Pretzel Kids yoga revolution?
We thought so!
Are you looking to work with kids, have fun and make money, all at the same time?
Pretzel Kids Yoga is the place to be! Once you have completed the Pretzel Kids Teaching Training course, you can become part of our membership community and Pretzel Kids teacher network!
What does this mean? You can list your classes on our website, get a teacher bio on our site, get booked directly for teaching gigs in your community, and the best part: You can use the Pretzel Kids name, logos and branding resources to market your very own Pretzel Kids classes.
Think of this like a kids yoga business-in-a-box. Open it, unpack it, and you're ready to go!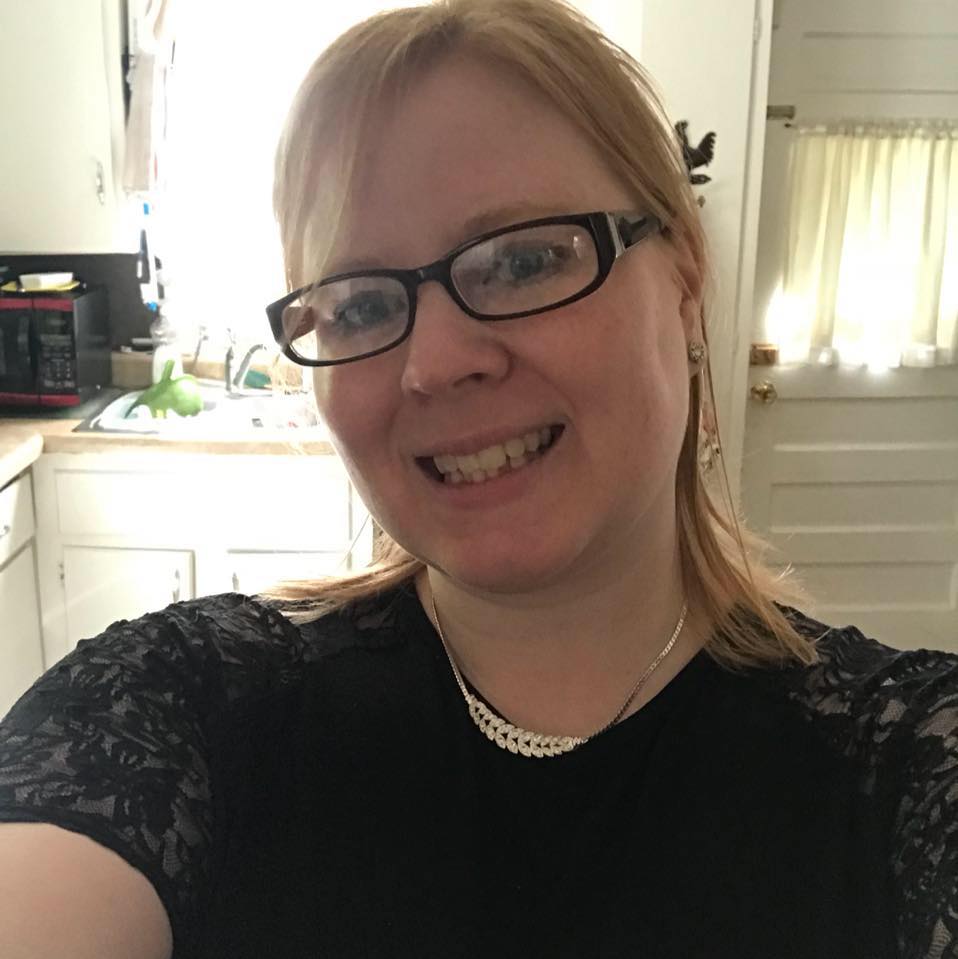 "The Pretzel Kids teacher training was fantastic! It was my catalyst for getting involved with youth fitness. Since I took the course, I have taught kids yoga classes at the Boys and Girls club, elementary schools, community centers, and centers for kids with special needs. I have also taught classes for Girl Scout troops and private sessions. The training and manual effectively teaches how to adjust the curriculum to various age groups. Robyn has been an excellent and supportive mentor and is always there to answer a question or give advice. I have seen kids of all ages and abilities excel and love the classes as Pretzel Kids is so much fun!"
-Becky E. of New York
8 REASONS TO TAKE THE PRETZEL KIDS TEACHER CERTIFICATION COURSE!

You can start earning money right away!

There's NOTHING else like this on the market today! You will learn our tricks of the trade, and our easy and proprietary 8-step methodology.
What's in a name? Everything! You can get in on the ground floor with the most innovative branded kids yoga training on the market today..

It's convenient! No need to travel to our live training. You can take the SAME course on your own time from the comfort of your home.

It's adaptable! You can adapt this material to teach classes for ages 2.9-17 or work with children one-on-one.

Anyone can do this, even YOU! No prerequisites required (although some yoga knowledge is helpful).

We support you! Become a licensed Pretzel Kids teacher, be part of our community

, get listed on our website, and get monthly lesson plans delivered directly to you. All you need to do is teach!

You do NOT have to be an adult yoga teacher and this course is much less expensive than a 200-hour teacher training (after which it'll take you possibly years to earn back your training investment. Many never earn it back).
Your Instructor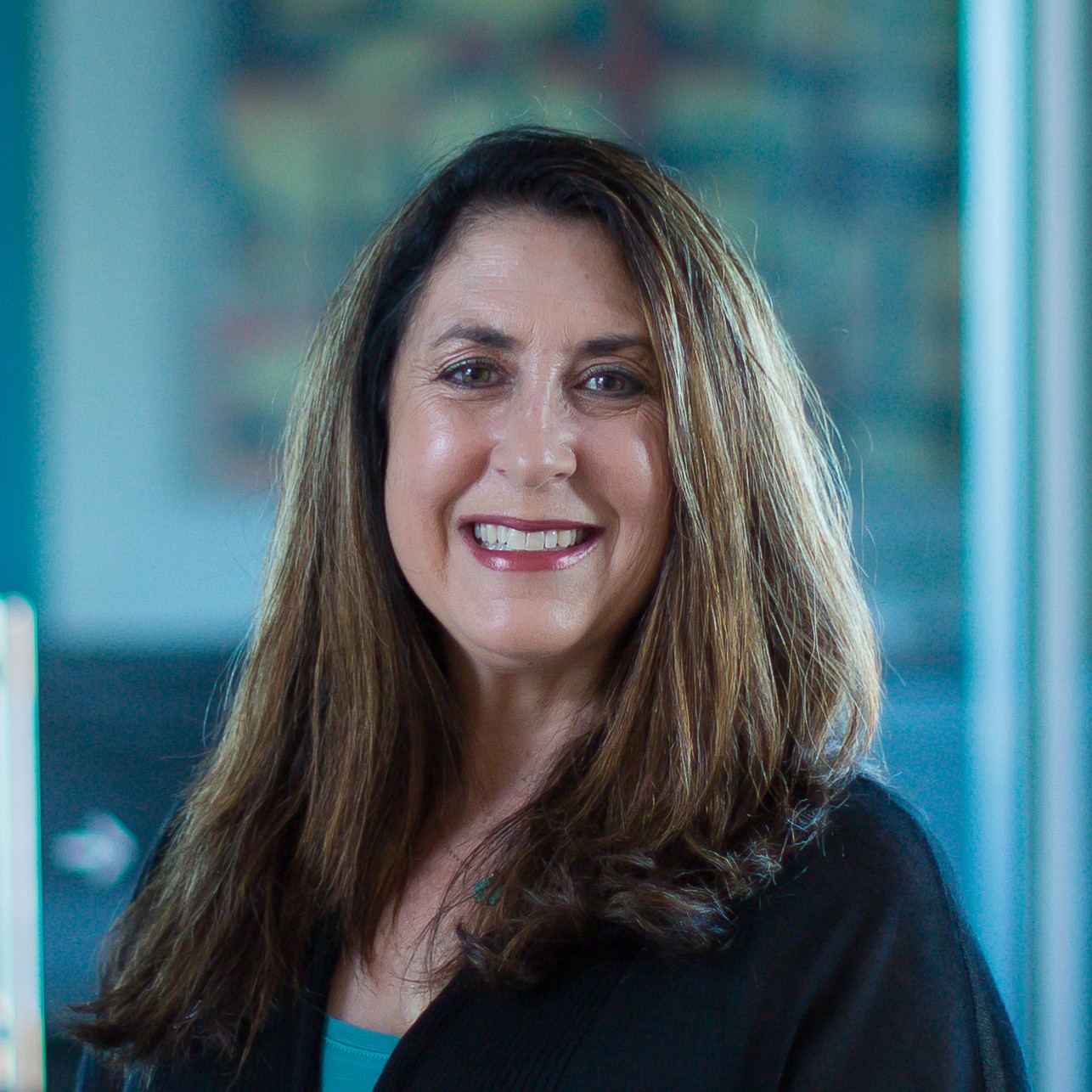 Hi everyone! I'm Robyn Parets, founder and creator of Pretzel Kids®. I'm also a marketing & branding expert, financial writer, and seasoned journalist.
I began leading Pretzel Kids yoga certification courses more than 12 years ago under the umbrella of my former Boston yoga studio, Breathe Joy Yoga. I also formerly ran a 200-hour TT school, so my intention with Pretzel Kids is to give YOU a fast and easy way to teach kids yoga - without spending thousands of dollars on an RYT-200 course (that, by the way, won't prepare you to teach a bunch of 5-year-olds.) Yup, it's true.
I absolutely love helping women make big bucks doing something they love. For this reason, I'm also a business coach at iFundWomen, and spend my time mentoring licensed Pretzel Kids teachers on launching their own successful businesses.
Pretzel Kids® was founded as a way to offer a structured yoga play environment for children. In fact, our ground-breaking children's yoga curriculum was written by school teachers (also yoga instructors). It is designed to model effective classroom educational programs and make it easy for YOU to begin teaching kids yoga immediately.
When not teaching and coaching, I like to travel, meditate, spend time outdoors, read & write, and hang out with my family and dogs. You can learn more about me on my personal website HERE. Let me know if you have any questions!
What's included in Pretzel Kids Yoga Teacher Training?
Pretzel Kids Course Introduction and Overview

Learn the Pretzel Kids "8 Rules for Success"
Follow along and participate with each video module and feel like you are part of a live training course
Download the Pretzel Kids Manual, a guidebook chock-full of activities, games and techniques
Discover The Pretzel Kids teaching methodology and learn how to implement it immediately
Get life-time access to our resources, videos and more. This way you can go back and review and grab a new idea at any time
Plus, learn more about Pretzel Kids and become a licensed teacher
LEARN MORE ABOUT OUR 8-STEP EASY TEAÇHING METHODOLOGY
Step #1: Setting up your classes
A review of the Pretzel Kids methodology and approach to teaching
How to begin, structure and manage your class
A review of specific centering tips and tools for appropriate age groups
Step #2: Pranayama
A review of Pretzel Kids-themed breathing techniques
Step #3: Warm-Ups
Learn specific Pretzel Kids warm-up techniques
Step #4: Sun Salutations
A review of the poses in a typical Pretzel Kids sun salutation
Learn proprietary Pretzel Kids sun salutation games and activities
Let's Break for Poses and Learn the Three-Part Pretzel Kids Pose Bank!
We've divided this module up into three videos. Watch them all, with your manual by your side, and learn how to practice more than 60 Pretzel Kid poses

Learn specialty "group" poses. These poses can be practiced with multiple kids and can be part of the warm-up, game, or even breathing section of your class!

Make sure you unroll your mat and get ready to turn your creative juices on!
Step #5: Game Bank: The Heart of Your Class
Here is where we get to have a ton of fun (and laughs)! Get ready to learn our most popular yoga games for all ages!
Learn how to theme your games
Step #6: Cool Down
Learn specific cool-down techniques
Step #7: Re-Centering
Learn how to re-center your class
Step #8: Savasana
Believe it or not, kids in our classes LOVE savasana. Why? Because we make sure this is a fun, relaxing end-of-class activity. It's something they love and look forward to.
During this module, you'll learn how to send the kids home or back to school relaxed and less-stressed!
Bonus Next Steps: Grow Your Business & Join the Pretzel Kids Teacher Network!
Learn how to become a Licensed Pretzel Kids Teacher
Discover the benefits of starting your own Pretzel Kids Yoga business
Join the "Start a Pretzel Kids Yoga Business" Membership
Plus, you get access to our THREE bonus courses!
See our bonus bundled courses below for more information on what you get!
Courses Included with Purchase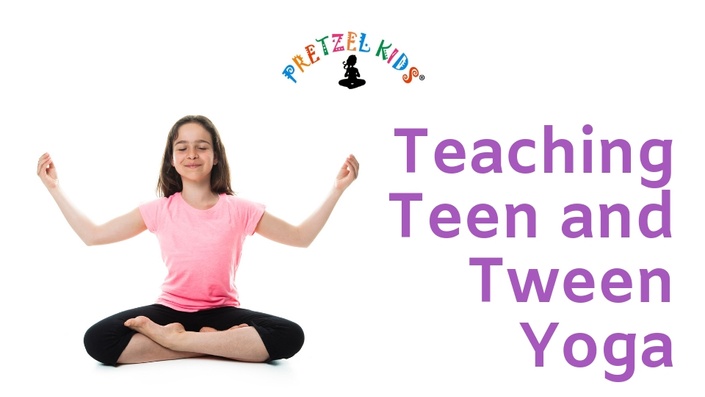 Teaching Tween/Teen Yoga
Learn Tried-and-true Techniques for Teaching Yoga to Tweens and Teens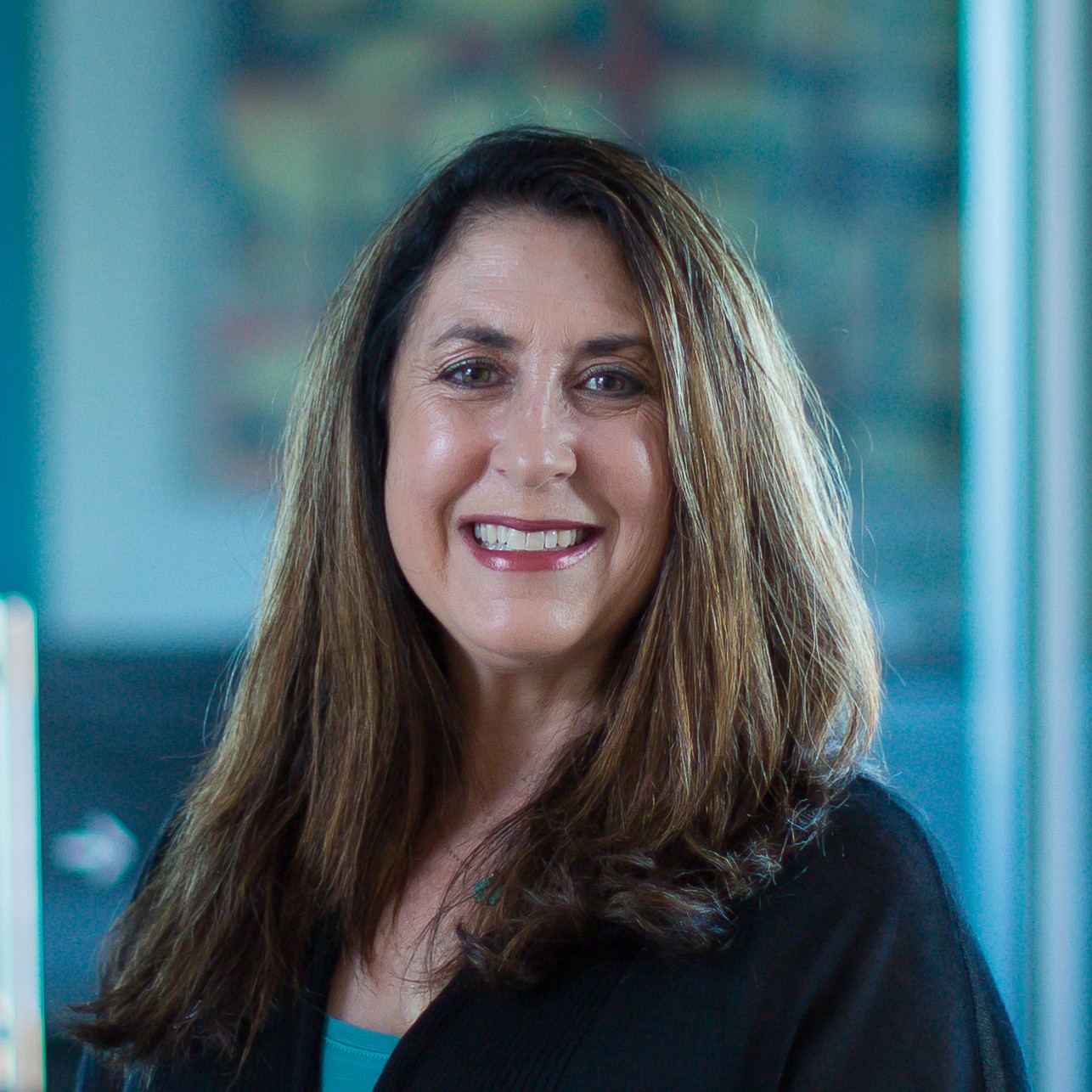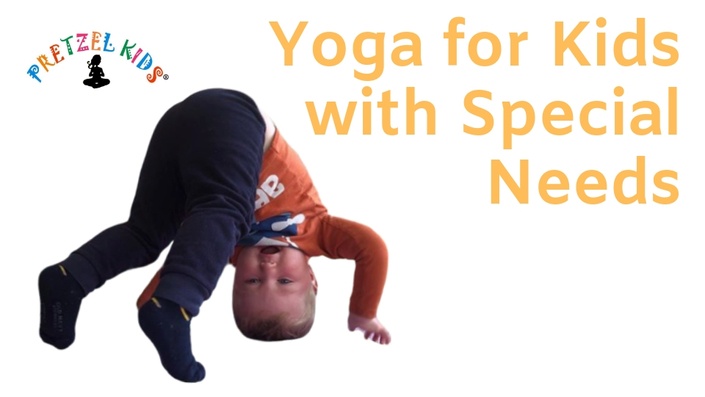 Learn to Teach Yoga to Kids with Special Needs
Simple Ways to Work with Children on the Spectrum - Starting Today!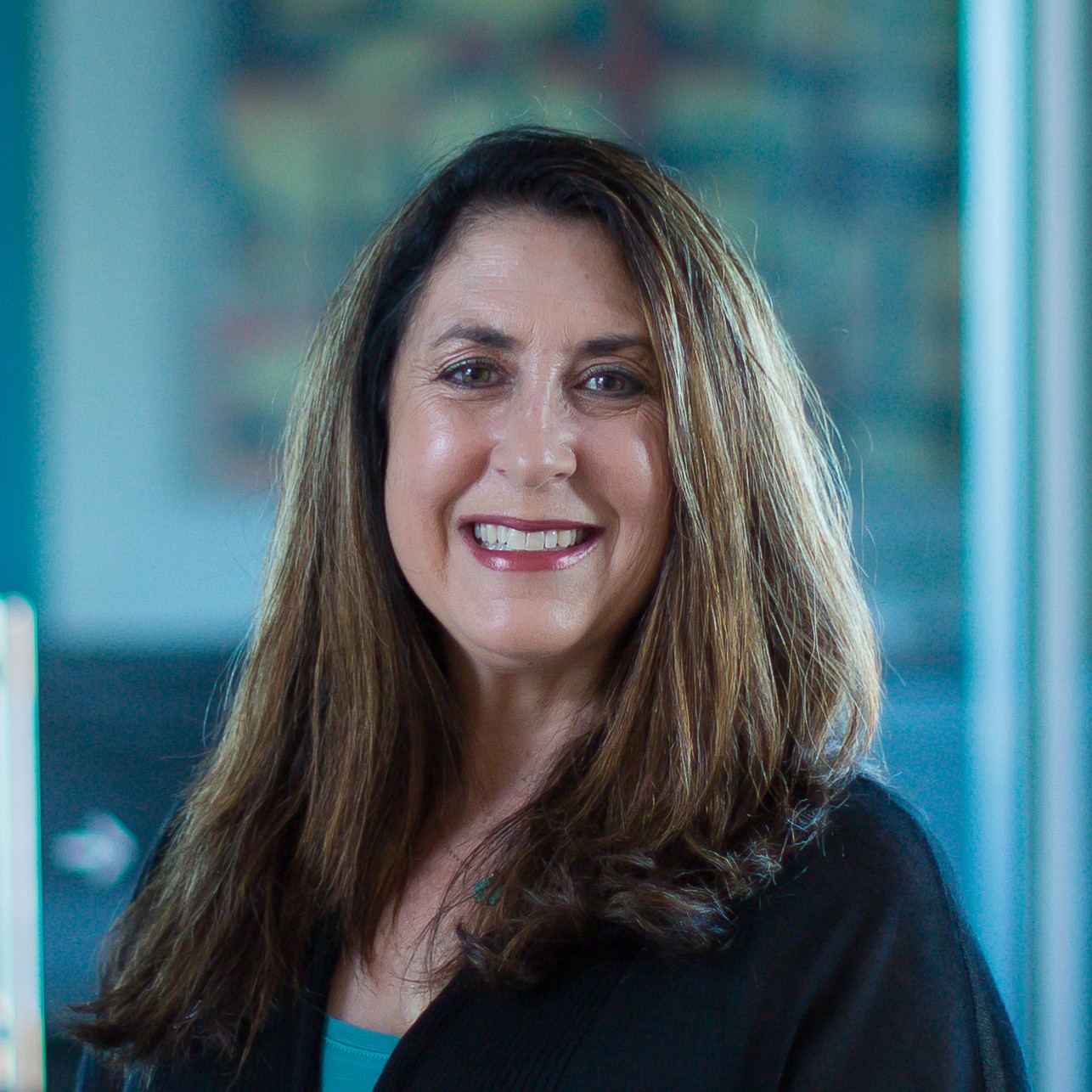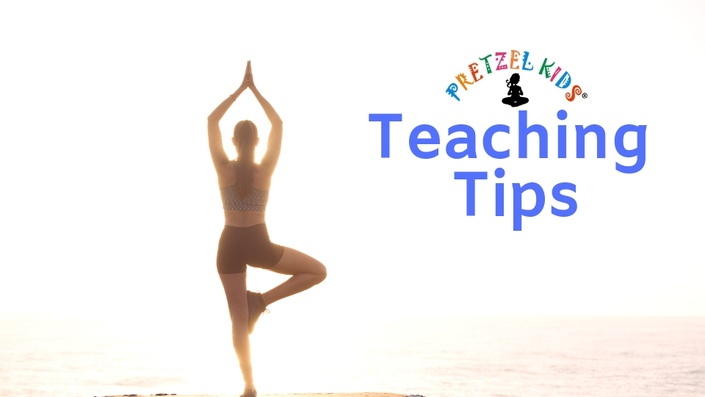 Teaching Tips
Marketing Your Classes and Creating Your Own Business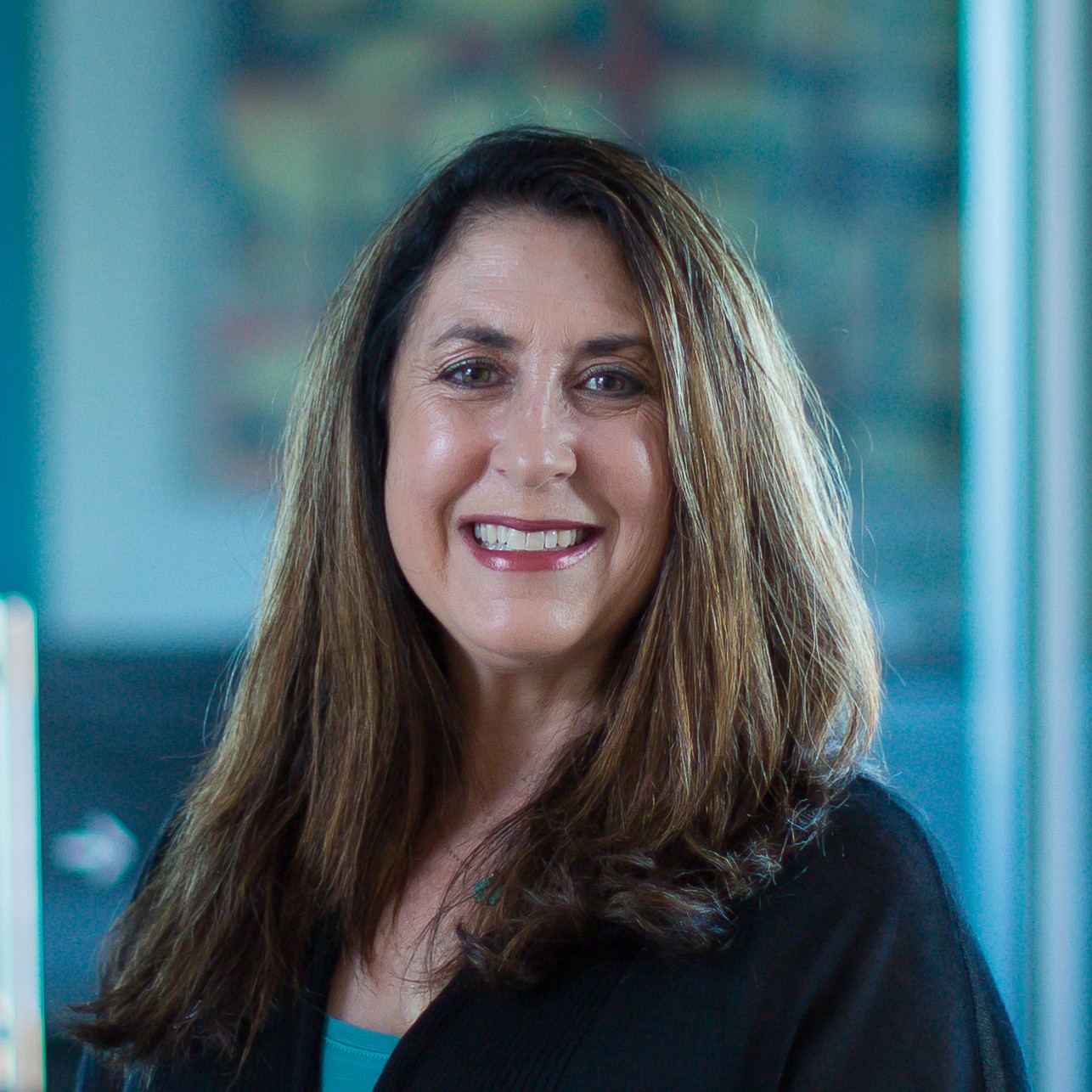 Original Price: $237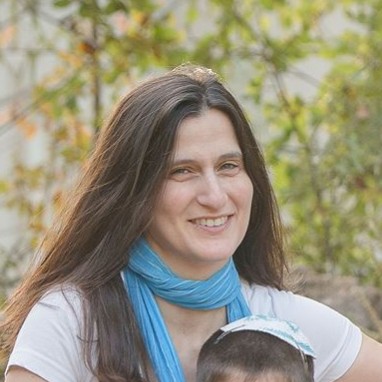 "As both an educator and yogini, I was amazed by the high quality of the Pretzel Kids approach, which combines the best in age-appropriate pedagogical practice with genuine yoga principles and techniques. I got all the tools necessary to begin teaching right away and all the kids I have worked with have loved the PK experience!"
– Sarah B. of Israel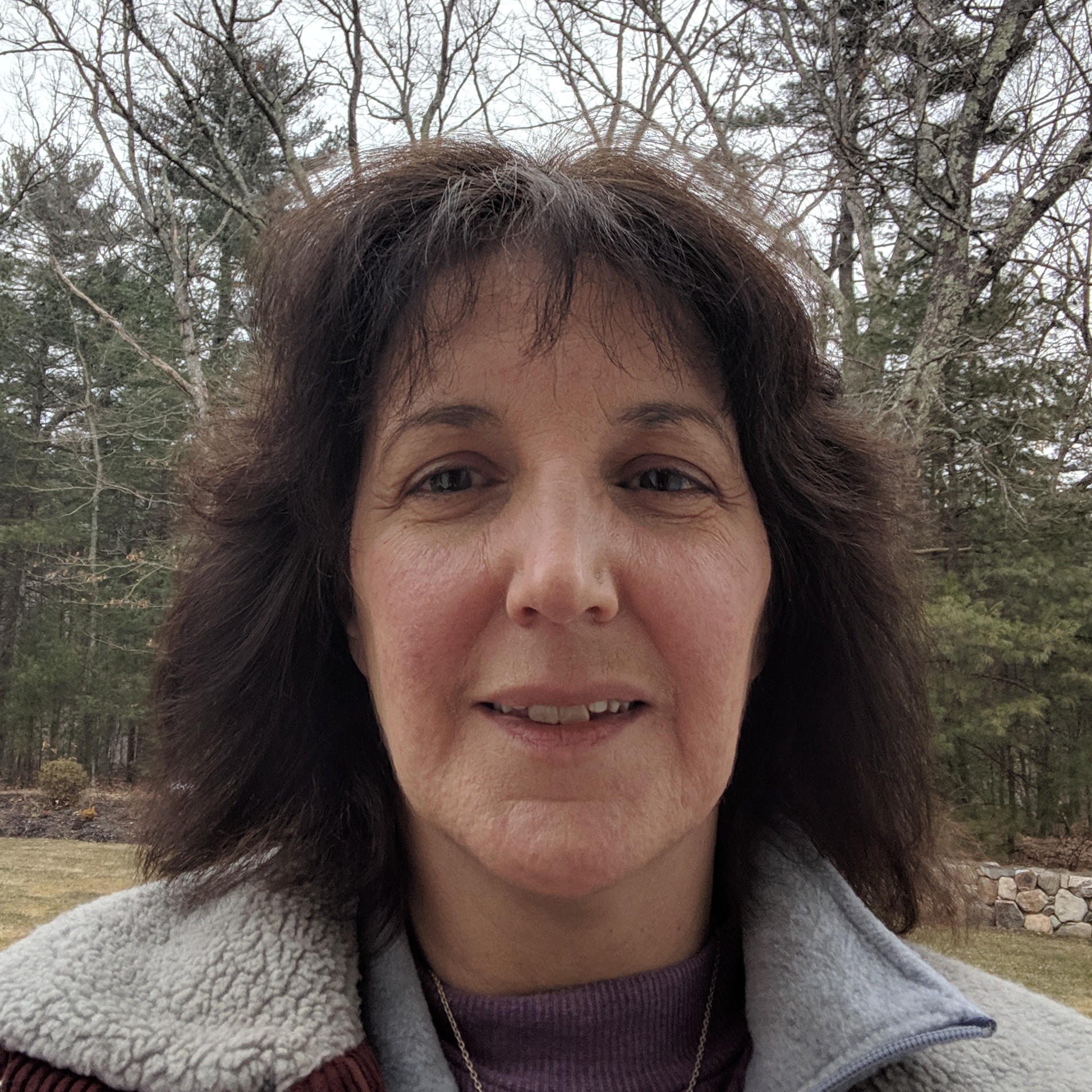 "Since becoming a certified yoga teacher last summer I have been looking for a program that would cover the unique needs of pre-teens and teens who wish to learn yoga. I researched a half a dozen or so programs and decided on Pretzel Kids. I am so glad I did! From the first video I learned so much and have come away from this program with a better understanding of how to teach a yoga class to children from preschool on up to high school. I especially appreciate the two additional classes focusing on tweens and teens and children with special needs. Robyn is a wonderful teacher and she imparts such knowledge of what works. I am proud to be part of the Pretzel Kids community and would recommend this class to any yoga instructor who wants to work with children."
- Paula S. of Massachusetts
Frequently Asked Questions
When does the course start and finish?
The course starts now and never ends! It is a completely self-paced online course - you decide when you start and when you finish.
Are there any prerequisites to take this course?
Yes! You should have a desire to teach children and make a difference in the world! Also, we recommend that you have some basic familiarity with yoga. If not, no worries, this is an easy peasy fix. Contact us and we'll recommend a couple things you can read to be prepared for the course!
After taking this course, can I call my classes Pretzel Kids? Can I call myself a Pretzel Kids teacher?
If you join our Pretzel Kids membership community and licensing program, the answer is YES to both questions! But, if you decide not to become a member, you cannot use the Pretzel Kids name to market your classes or business, and you cannot refer to yourself as a Pretzel Kids yoga teacher. You can, however, state that you've completed the Pretzel Kids Yoga Teacher Certification course and list this fact on your resume or bio. We know it can be a bit confusing, so feel free to reach out with any questions. We do highly recommend that you do join our community - as we offer all of the licensing and branding rights you'll need to build a kids yoga business. Learn more about the many perks and sign up here: https://pretzelkids.teachable.com/p/subscription-course-grow-your-business.
I own a yoga studio and would love to offer this course as part of my 200-hour teacher training. How can I do that?
We do off volume purchase rates for 5 or 10 instructors. We can also offer you special pricing for more than 10 teachers. Please email us at pretzelkidstraining@gmail.com and we will be happy to discuss this!
What if I am unhappy with the course?
We would never want you to be unhappy! If you are unsatisfied with your purchase, contact us in the first 30 days and we will give you a full refund. After that, you have lifetime access to the course so hopefully you will use the resources at some point in the future.
How long do I have access to the course?
How does lifetime access sound? After enrolling, you have unlimited access to this course for as long as you like - across any and all devices you own. Please note: Your enrollment gives you and only you access to the course. If your friends, family or colleagues wish to take the course, they would need to purchase the course individually.
Once I have completed the course and submitted my 2 completed lesson plans, when can I expect to receive my Pretzel Kids certificate?
You should receive your certificate via email in a PDF format in 7 days.
Where can I teach kids yoga classes once I take this course?
Anywhere kids congregate! We encourage you to teach at preschools, yoga studios, fitness centers, daycare facilities, after-school enrichment programs and more. We also encourage you to join our Pretzel Kids community so that you can teach branded Pretzel Kids classes and launch a successful business!
Is this course a Yoga Alliance RYT-C program? If not, can I get continuing ed credits through YA?
Our course is not a 95-hour program through Yoga Alliance. We have opted not to run our course in this way as A) This option is only available to RYT 200 teachers and, if you have taken a 200-hour program, you don't then need another 95 hours; B) Our founder used to offer a 200 hour RYT program (for 10 years) and researched the heck out of this. We determined that the most effective way to run our course is to do so independently and offer YOU a high quality course at a low price point. With that said, YES, this course is eligible for continuing ed credits through the Yoga Alliance. To learn more, see our founder's official YACEP profile page here: https://www.yogaalliance.org/YACEPPublicProfile?cepid=13337#/section=1
Do I need any other yoga or fitness certifications to teach Pretzel Kids classes?
Pretzel Kids is a specific type of kids yoga program and certification course. If you join our instructor network and membership community, you will get a license to teach branded Pretzel Kids® classes. With that said, some facilities may also require a 200-hr yoga certification or another type of group exercise certification. So, you may need to check with hiring managers to learn about additional job requirements.
Can I use the word "Pretzel Kids" for my website URL, email account or social media channel names?
Pretzel Kids is a registered trademark and as such, you cannot use the name for your own business, email account, website domain name, or social media accounts. However, if you join the Pretzel Kids membership community, you will get licensing rights to use the Pretzel Kids name and logos for your classes and events. And, with your membership, you would be able to use our logos, name and brand on your own website. For further information, please contact us at info@pretzelkids.com
I'm not sure whether I want to become a licensed teacher right now. Can I join the membership program later?
Yes! You can join get membership program and become a licensed teacher at any time - so long as you've completed the course. When you become a licensed Pretzel Kids teacher, we will send you a new certificate.
Do I need to be a certified yoga teacher (RYT-200) to take this course?
No! Come as you are, prepared to learn, have fun and add a skillset to your wheelhouse where you can actually earn money (and pay back your small course investment in a short amount of time).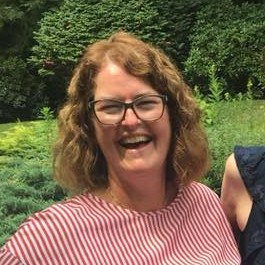 "I thoroughly enjoyed my Pretzel Kids teacher training. The balance in the course content between skills and practicalities like advertising, lesson planning and rates to charge was appropriate. I secured teaching hours at my local Y and preschools. I moved home to Ireland a couple of years ago and the concept behind Pretzel Kids is just as relevant here as it was in MA."
-Louise L. of Ireland